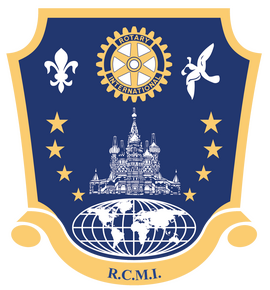 Rotary Club
Moscow International
Rotary Club Moscow International is the English-speaking Rotary Club in Russia's capital. When attending our meetings, you will also hear Russian, German, French, and other languages spoken as we welcome Rotarians and visitors living nearby and visiting from around the world.The active and dedicated Rotarians in our Club are professionals coming from all areas of life: business, academics, art, government, and many other fields. We are active in supporting our community through charity, humanitarian work, and public projects that help our city to be ever more beautiful and enjoyable for its residents and visitors.Our Club was chartered in 2001 and joins 9 other Rotary Clubs in Moscow, 77 in Russia's District 2223, and over 33,000 Clubs throughout the world providing "service above self".
---
RCMI Board 2021/2022
Patrik Mayer
Past President
Rifat Cicek
Vice President
Olga Laletina
Club Master
David von Lingen
Treasurer
Philippe Cohen
Social Projects
Alina Lavrentieva
Board Member
RCMI meets every 1st and 3rd Monday of the month at 19.30h at Ararat Hyatt Hotel, 4 Neglinnaya Street, Moscow. For details please check the Club Calendar.In order to participate you must be invited by a member of RCMI.
Club Calendar 2021/2022
(if using mobile phone, turn sideways for correct view)
2021Sept 6Sept 11Sept 20Oct 4Oct 18Oct 23Oct 29Nov 1Nov 15Nov 25Nov 29Nov 30Dec 13 2022Jan 17Jan 31Feb 14Feb 28Mar 14Mar 28Apr 11Apr 25May 16May 30Jun 20
Statutory Meeting "The future of the Office"Ad Hoc Event "Visit of Blazar Art Fair"Statutory Meeting "Raduga Foundation"Statutory Meeting "Hilton (Soviet Visotka) guided tour"Statutory Meeting "Moscow Region Business Development"Club Trip "Sergiev Posad Orphanage"Fundraiser "RestartU"@ Armenian EmbassyStatutory Meeting "Nuclear Icebreaker to the North Pole"Statutory Meeting "Localization in Russia - Experience Sharing"Ad Hoc Event "RCMI@Winzavod"Statutory Meeting "Goethe Institute in Russia"Ad Hoc Event "Beer Tasting @ Spaten Grand"Xmas Event @ Hyatt Ball Room Statutory Meeting "Innovation in Switzerland"Statutory Meeting "North and South Korean delegations in Vladivostok"Statutory Meeting "Medical checks of foreign nationals: news & experiences"Statutory Meeting "Liquidity transfer, FX differences & impact on business"Statutory Meeting "Russian labour market in the current crisis"Statutory MeetingStatutory MeetingStatutory MeetingStatutory MeetingStatutory MeetingAnnual General Meeting (AGM, members-only)
---
Club Calendar 2020/2021
(if using mobile phone, turn sideways for correct view)
2020Jul 13Sept 7Sept 12Sept 21Oct 5Oct 19Nov 2Nov 16Nov 30Dec 14 2021Jan 11Jan 18Feb 1Feb 15Mar 1Mar 15Apr 19May 11May 24Jun 7Jun 25Jun 28
Annual General Meeting (AGM, members-only)Statutory Meeting "Contemporary Art in Post-Soviet Russia"RCMI goes Cosmoscow!Chimney Meeting (members-only)Statutory Meeting "Consumer Product Sector in 2020/21"Statutory Meeting "Renewable Energy Revolution / End of Oil. Myth or Reality?"Statutory Meeting "Charity Crowdfunding"Statutory Meeting "Green Finance"Statutory Meeting "Sustainability in Business Models: Green Economy"Xmas Event International Meeting with RC Kitchener/ CanadaStatutory Meeting "Digital Medicine: Push into Blue Ocean of Life Sciences"Statutory Meeting "Outlook for Doing Business in Russia in 2021"Statutory Meeting "Blockchain for Corporates"Statutory Meeting "Covid vaccines: what we know today"Statutory Meeting "Digitalisation in Financial Sector"Statutory Meeting "HR Management Practices"Chimney Meeting (members & friends only)Statutory Meeting "Charter Anniversary Event"Statutory MeetingFundraiser for "our little country"Annual General Meeting (AGM, members-only)
Club News
RCMI will revert the next meetings to pure online format due to the pandemic situation. Stay healthy!
18.01.2022Successful close of 2021 with a fundraising Christmas Dinner. See impressions here.
13.12.2021RCMI approaches the year end with two additional ad hoc events (see calendar for details) and a Christmas celebration @Hyatt Library.
19.11.2021Successful Fundraiser Event Gala Dinner at the Armenian Embassy to support RestartU. See impressions here.
29.10.2021RCMI explored one of the 7 sister biuldings: the Hilton Hotel Moscow Leningradskaya. See pictures here.
04.10.2021Start with a glimpse on "the future of the office" at our first Stat Meeting.
06.09.2021The Rotarian year closes with our AGM 2021 and hand-over of the presidency from Patrik Mayer to Thomas Bihrer. Motto of next year: "Enjoy Your Rotary"
30.06.2021Successful Summer Jazz event to raise funds for RCMI project "Our Little Country" on June 25.
26.06.202120th charter anniversary of RCMI coming up in May. Prepare for a special evening on May 24th.
30.04.2021Hybrid meetings will resume in February with an "Outlook for Doing Business in Russia in 2021" by Chris Weafer
23.01.2021Digital Insights from Anton Gopka on "Digital Medicine" and "Digitalisation in Financial Sectors" by Marc Friedrich on the agenda for Q1
16.01.2021RCMI returns from New Year Break for international Rotarian friendship in a joint online meeting with RC Kitchener/ Canada (#beafriend)
11.01.2021Happy faces at Lapino Hospital as RCMI offers a sweet surprise to medical staff, kindly supported by Lindt
20.12.2020Year end "in style" at RCMI with a wine roulette at the Library Room at Hyatt
14.12.2020Successful food collection project by RCMI and Rotaract with Nochlejka to support homeless in Moscow (homeless.ru)
10.12.2020"Green" weeks ahead at RCMI with three speakers looking at environmental topics from very different angles (see Club Calendar)
11.10.2020RCMI implements tighter hygiene concept for physical meetings at Hyatt.
06.10.2020Rotarian Year 2020/ 21 starts with "Art Insights" from speaker Laure Debouttiere and a visit to Cosmoscow.
13.09.2020Until further notice RCMI will conduct all Statutory Meeting in a hybrid format (limited physical attendance at Hyatt and Zoom link).
15.07.2020